If it looks like an ad, and it reads like an ad, Facebook wants publishers to make sure readers know when it is, in fact, an ad.
The social network giant announced its new branded content policy on Friday, and it will delete posts that don't follow the new rules.
"Just like all content on Facebook, branded content will go through a review process," the company said in a statement. "We will begin ramping up enforcement over the next few weeks to remove non-compliant branded content or disapprove ads for lack of compliance."
The policy applies to verified pages (ones with a blue checkmark), which can now begin pushing branded content to their followers on the social network — so long as publishers tag the brands they're promoting in the post itself.
Theoretically, that means if a company like Hershey paid a pop star to post a video of them frolicking in a field full of chocolate bars, that celebrity would have to tag the company in the placement.
Here's what an example that Facebook provided of branded content (featuring a video of Lady Gaga that Intel paid for) looks like: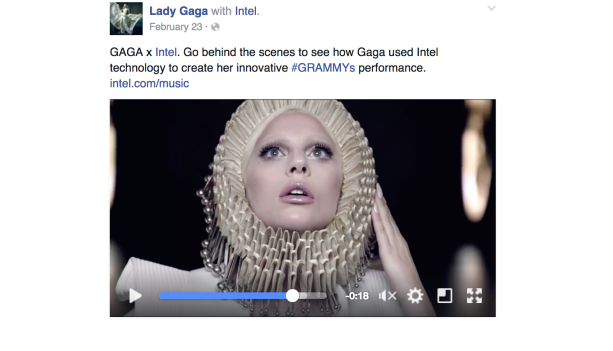 In addition to flagging the content to readers as an ad paid for by a sponsor, marketers will now have access to metrics indicating how well pieces of branded content perform. Marketers will have the option of sharing the post on their own page pay Facebook to "boost" their reach.
"This update is something that media companies, public figures, influencers, and marketers have been asking for, as branded content is a growing and evolving part of the media landscape," wrote Facebook product manager Clare Ruben and vice president of partnerships Nick Grudin in a blog post announcing the changes.
Facebook has released a new branded content tool for publishers and marketers to manage sponsored posts.